no comments
Categories:
Tags:
Is It Legal for the Federal Government to Execute Drug Dealers?
The death penalty would only be sought in specific cases.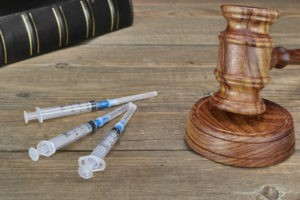 President Trump recently made headlines after announcing that the federal government would seek the death penalty for drug dealers, as part of the administration's effort to combat the opioid crisis. While this plan was met with immediate outcry by some, his proposal was actually far less extreme than it was made to seem. In fact, the administration is proposing only to more aggressively enforce the existing laws regarding when the death penalty can be applied in drug-related cases.
According to the Death Penalty Information Center, the federal government can seek the death penalty in drug-related offenses in just four situations:
When a murder is committed during a drug-related drive-by shooting;
When a murder is committed with the use of a firearm during a drug-trafficking crime;
When a murder is related to drug trafficking; and
When drug-related murder of a law enforcement officer is committed.
As you can see, each of the listed crimes is actually murder. They are all related to drugs, but the underlying crime that permits the application of the death penalty is murder. While President Trump has spoken of applying the death penalty to anyone who participates in drug trafficking, the reality is that his proposal does not change existing law. The death penalty under federal law will still only be applied to certain types of murders that are related to drugs, and not to offenses that involve drug trafficking without something more.
According to an experienced Beverly Hills criminal defense attorney, drug dealing is not a capital offense under California state law. There are a limited number of crimes in California that can lead to a sentence of capital punishment; they are known as capital crimes or offenses. The most common type of crime that can lead to the imposition of the death penalty is "special circumstances murder." This may include murder of a law enforcement officer, murder involving torture, murder in connection with gang activity, or murder in connection with another serious felony (the felony murder rule). Other crimes that may lead to the death penalty include crimes such as treason or assaulting and killing someone with a deadly weapon while in state prison.
As skilled Beverly Hills criminal defense attorneys, we know that the death penalty is controversial. We understand that no matter what your position may be on this method of punishment, everyone accused of a crime deserves a strong defense. At Perlmutter & Pourshalimi, we are committed to aggressively defending our clients against all criminal defense charges, including drug-related offenses.
While federal law may not have changed regarding the death penalty for drug dealers, both California and federal criminal law are constantly evolving. Our team of seasoned Beverly Hills criminal defense attorneys work diligently to stay abreast of the latest developments so that we can better represent our clients. Contact Perlmutter & Pourshalimi today at 310-295-2236 or contact@pandpfirm.com to schedule a free initial consultation, and to learn more about how we can help you.