Reducing California Workplace Fatalities
By:
David Pourshalimi
June 6, 2018
no comments
no comments
Categories:
Reducing California Workplace Fatalities
As numbers for deaths at work continue to rise, learn how you can stay safe.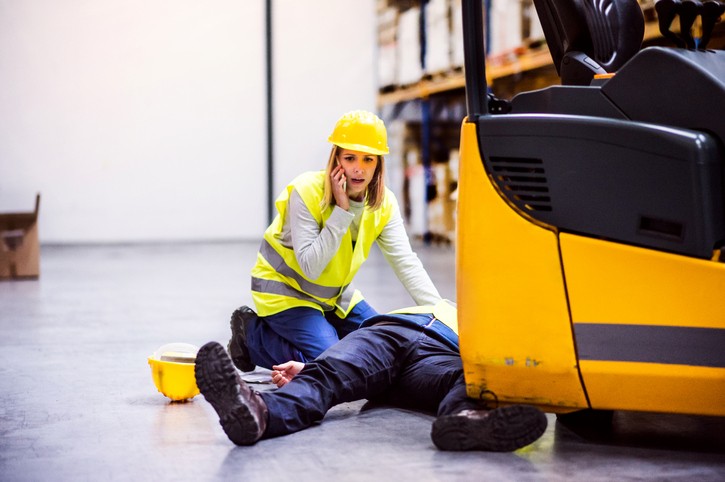 June is National Safety Month, a time to focus on the issues that can put our health and well-being in danger. For most people, safety is associated with things that can happen in our homes or cars. Yet many dangerous and even fatal accidents happen in a place where most of us spend a large portion of our days: on the job. According to the National Safety Council, approximately 5,200 Americans died at work in 2016.
The number of Americans who died on the job in 2016 is not an anomaly. In fact, it was the third year in a row that the number of workplace fatalities increased. In 2016, an average of 14 people died each day. It was the first time in nearly 10 years that there were over 5,000 work-related fatalities in the United States.
The Bureau of Labor Statistics, has examined the numbers behind these deaths. The primary cause of these fatalities was injuries due to accidents involving transportation. That accounted for 40% of all workplace deaths in 2016. Next, workplace violence caused 17% of deaths, followed by slips, trips and falls. Contacts with objects and equipment was the fourth leading cause at 15%. Finally, exposure to harmful substances or environments caused 10% of all workplace deaths in 2016.
The occupations with the highest incidence of workplace fatalities may be surprising to some people. While many people view certain jobs, such as law enforcement or other first responders, as the most dangerous careers, the people who experienced the highest rates of death on the job in 2016 were actually drivers/sales workers and truck drivers, at 918 deaths. Next, 260 farmers, ranchers and other agricultural workers died in 2016, followed by 217 grounds maintenance workers. 134 first-line supervisors of construction trades and extraction workers died in 2016, along with 101 roofers. The majority of the workers killed (4,803 out of 5,190) were men, and most were between the ages of 45 and 64.
While these numbers are certainly shocking, there are steps that you can take to protect yourself. Following these tips from a Beverly Hills personal injury attorney can help. As an initial matter, it is vital to understand the hazards of your job, and learn what you can do to reduce any risks. For example, if driving is part of your job, make sure that you are well-rested and have built breaks into longer drives.
Next, know your workplace's emergency plan — and be ready to put it into action if necessary. Speak up if you see something that is unsafe, like a spilled chemical on the floor, or co-workers performing a task without the appropriate safety gear. You should always get enough sleep, and come to work well-rested. This is particularly important if you work with heavy machinery that could be dangerous if you are drowsy. Never work while under the influence of alcohol or drugs. While you are at work, minimize distractions, like your phone — it's better to answer that call later and avoid slipping and falling or otherwise getting hurt. You should always wear protective or safety gear that is designed for the task that you are doing, such as a harness for working off the ground. Finally, learn your rights — and assert them. This may even include consulting with a Beverly Hills personal injury attorney if you have been hurt in an accident.
At Perlmutter & Pourshalimi, we are dedicated to helping our clients get the compensation that they deserve for their injuries. If you have been hurt in a workplace accident, we can help. We work hard to get you the justice that you deserve. Contact us today at 310-295-2236 or contact@pandpfirm.com to schedule a free initial consultation with a Beverly Hills personal injury attorney.