no comments
Categories:
Tags:
Self-Driving Car Accident Raises Serious Safety Concerns
Experts say that the death of an Arizona pedestrian was avoidable.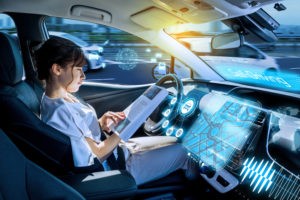 For years, manufacturers of self-driving cars have told us that these vehicles will make us all safer. Because the potential for human error will be removed, there won't be as many accidents. While it's true that distracted driving, speeding, drunk driving and a number of other human-driven causes do cause a substantial number of fatal and serious car accidents every year, it isn't clear that self-driving cars will eliminate accidents altogether.
A recent fatal accident in Tempe, Arizona illustrates this point. The crash occurred when a pedestrian walked her bike across a dark road. A self-driving Volvo vehicle, operated by an Uber driver, struck and killed the woman. Prior to the impact, the driver was constantly glancing down at her lap — and not paying attention to the road. She looked up just as the car collided with the pedestrian. The car did not slow down or swerve before hitting the pedestrian. It hit her at 38 miles per hour, killing her.
While it is unknown how a human driver would have reacted to a pedestrian in the road, it appears that the Uber vehicle's sensors failed. According to various experts, the vehicle's sensors should have detected the pedestrian and reacted — thereby saving her life.
Driverless cars are equipped with a system made up of cameras, radar and lidar sensors that are designed to allow them to "see" their surroundings. The sensors should work as well at night as they do during the day. In theory, these vehicles should be able to detect traffic, pedestrians, and other obstacles. If they come across an obstacle — such as a pedestrian — a driverless car is supposed to stop. In this case, the vehicle clearly did not detect the pedestrian, with tragic results.
While driverless cars are supposed to make our roads safer, it is evident that more research is needed before they can be deployed on a widespread basis. Uber has suspended its self-driving operations in various cities. However, this raises a number of questions of how victims of self-driving car crashes can receive compensation for their injuries. As an experienced Beverly Hills personal injury lawyer can explain, driverless cars create unique situations where it is a computer system rather than a person driving the vehicle.
Here, the manufacturer of the vehicle, Volvo, may be at fault under a product liability theory for the failure of the sensors to detect the pedestrian. In addition, Uber may be responsible for its use of the technology, and for negligently hiring a driver with a history of driving violations who failed to pay attention while the auto pilot mode was engaged. A knowledgeable Beverly Hills personal injury lawyer can assess the details of a case to determine who may be held responsible for losses suffered as a result of an accident involving a self-driving car.
Of course, the majority of accidents on American roadways do not involve self-driving cars. Victims of any type of collision caused by the negligence of another party deserve compensation for the injuries that they have suffered. If you have been hurt in a car accident with a self-driving car or any other type of vehicle, contact Perlmutter & Pourshalimi today. Our highly-skilled Beverly Hills personal injury lawyers can work with you to help you recover for your losses. Contact our office today at 310-295-2236 or contact@pandpfirm.com to schedule a free initial consultation.